INSTALLATION & SITE SPECIFIC PERFORMANCE PROGRAM
in collaboration with Albrecht Pischel and TARS Gallery

13/11 — 01/12/2021, Bangkok



with Jitti Chompee, NúÚ P3A☭3, Notep, Wesley Hsu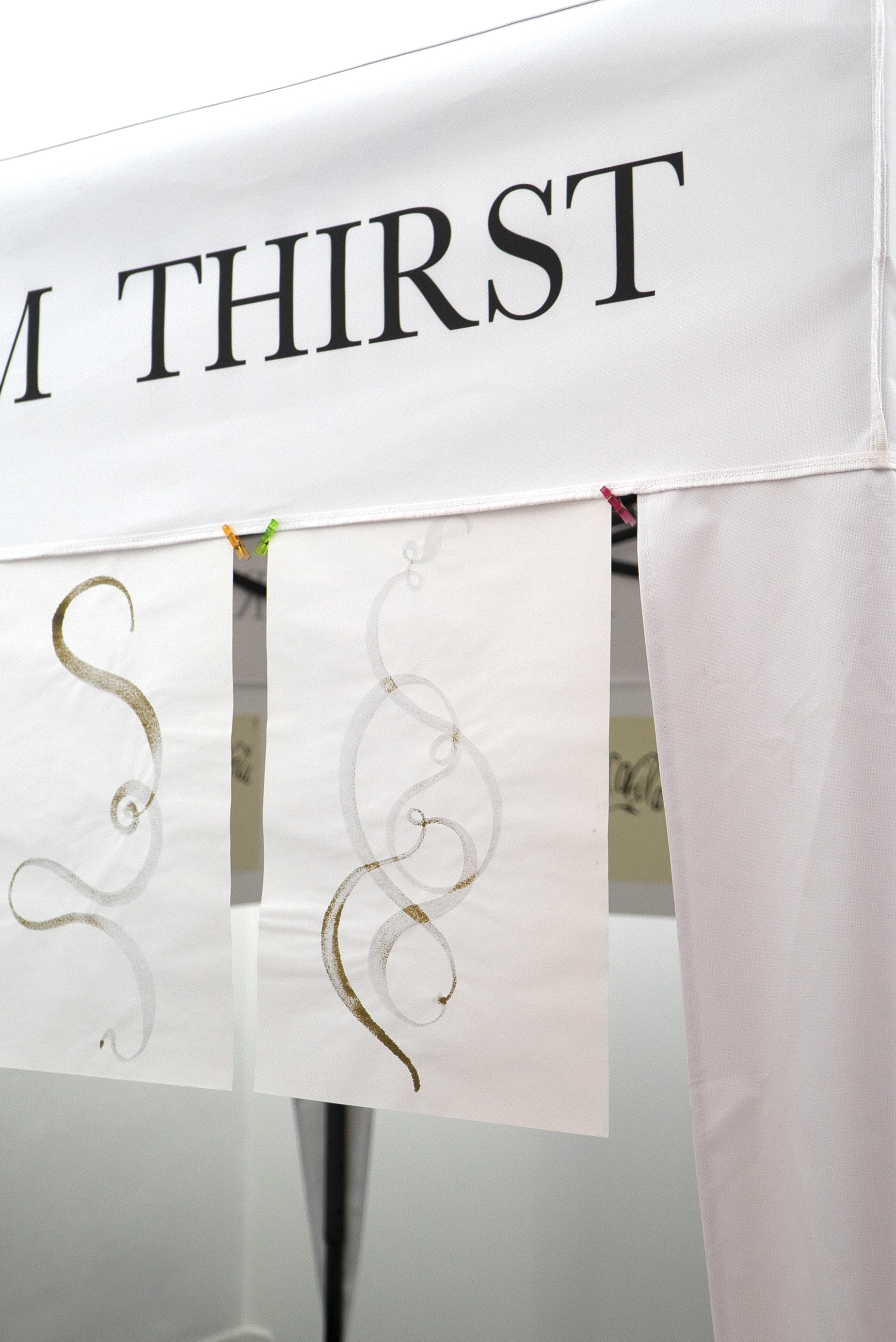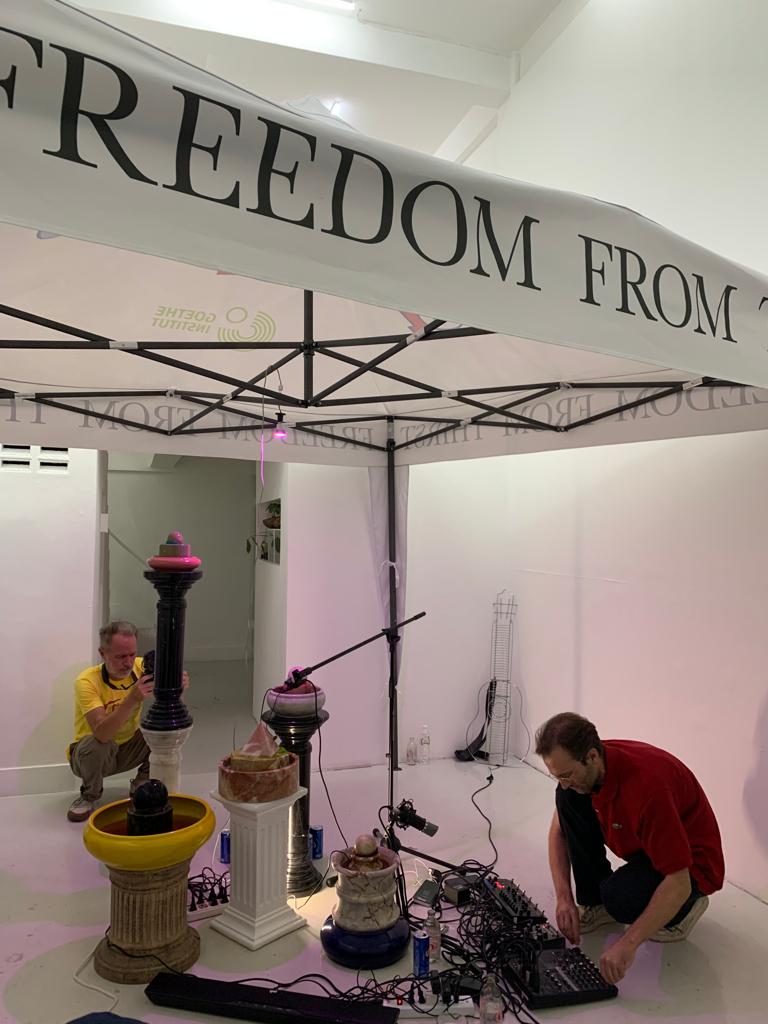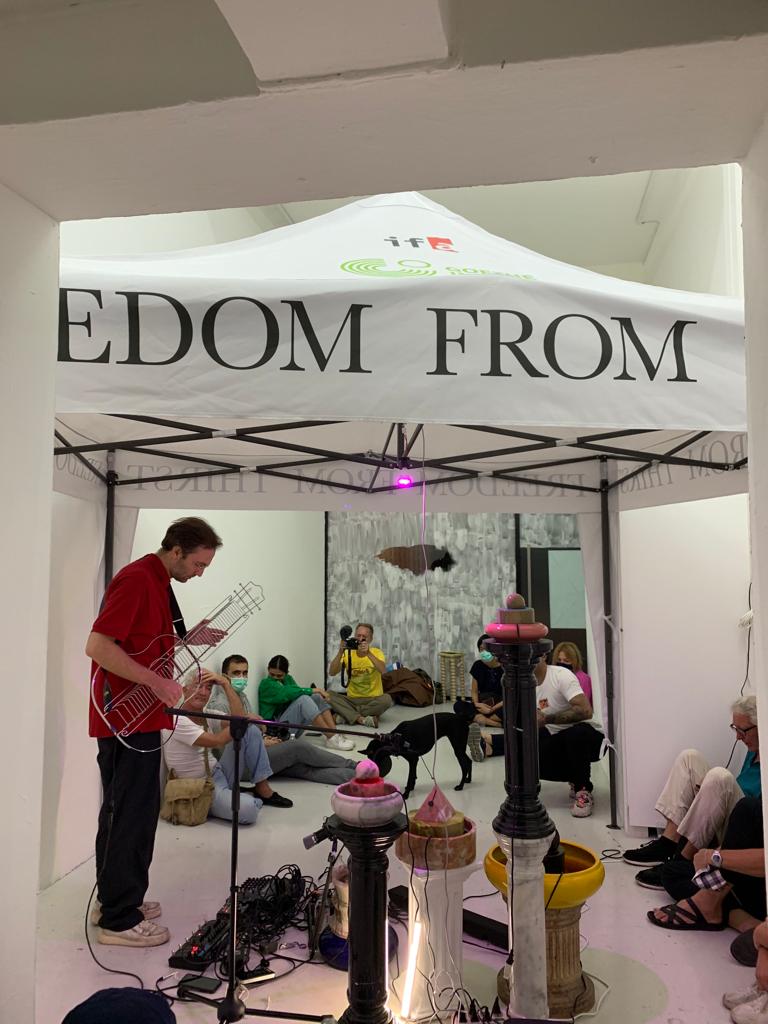 FREEDOM FROM THIRST — originally conceived thought as a pavilion for the 2nd Bangkok Biennale — is an installation by Albrecht Pischel. The title is borrowed from a Sprite advertising campaign from the early 2000s and is subliminally evocative of Eastern discourses on detachment from desires.

A customized mobile tent – a 'pavilion povera' – made camp at TARS Gallery and opened up an ambivalent space between the commercial and the spiritual. It sheltered an eclectic ensemble of purling sculptures: a sweet flow of colored soda endlessly cascaded over the heavy postmodern stone assemblages, contrasting with the transient nature of the folding tent. Bearing logo-ish arrangements of texts and images appropriating the visual codes of corporate design and sponsorship, the tent oscillated between an architecture, a shelter and a promotional tool. Upstairs, a second, smaller pavilion echoed the first, displaying a series of ink drawings by American artist Matt Mullican, that Pischel freely incorporated into his exhibition. His variations on the Coca-Cola logo produced under hypnotic trance bridged the commercial and the spiritual in a similar way.

In the frame of Bangkok's Galleries' Night, FREEDOM FROM THIRST became a nomadic pavilion across the city, activated as a venue for performative occurrences orchestrated by The Performance Agency. As such, the catchy pop-up space also highlighted the original purpose of a pavilion – or "Sala" in Thai – as a place of leisure offering a moment of rest and togetherness. The performance program was held at the Phittaya Sathian Bridge, inside The Future Tesco at Lotus Rama 1, and at a retrofuturistic pavilion in Lumpini Park.

27/11 Jitti Chompee, Party Animal, Phittaya Sathian Bridge
28/11 NúÚ P3A☭3, TESCORAVE, Tesco, Lotus Rama 1 mall
28/11 Albrecht Pischel, On the Rocks, TARS Gallery
29/11 Notep, Sound bath, accompanied by Wesley Hsu, Lumpini Park




FREEDOM FROM THIRST was funded by Ifa Institut für Auslandsbeziehungen and Goethe Institut Bangkok.
Documented by Christopher Wise and Albrecht Pischel