About
---
THE
PERFORMANCE
AGENCY

The Performance Agency is dedicated to the curation and production of site-specific performance formats. Since its initiation in 2017, it has been informed by the artistic esprit of the avant-gardes at the origins of performance art. In a firm belief in the transformative powers of art, The Performance Agency lives in a continuation of their energies—uniting artists from all fields to create collective spaces of experience that draw our attention to interstices, to the inexplicable, to the beauty of the everyday.

In the first two years, The Performance Agency curated the public program of the Archivio Conz, a collection of more than 3 000 works by late 20th century avant-garde artists collected and produced by Italian publisher and collector Francesco Conz, and developed its signature format: carefully staged performances that allow audiences to traverse a world of imagination. The combination of historical references and an attentive orientation towards the future continues to guide the work.

With studios in Berlin, Paris, Geneva and Vienna, the organisation has since become a vital organism, curating projects in collaboration with international institutions and artists to produce a wide array of formats, from public programs to performative dinners, music albums and artist videos.

The Performance Agency is supported by the aws Austria Wirtschaftsservice.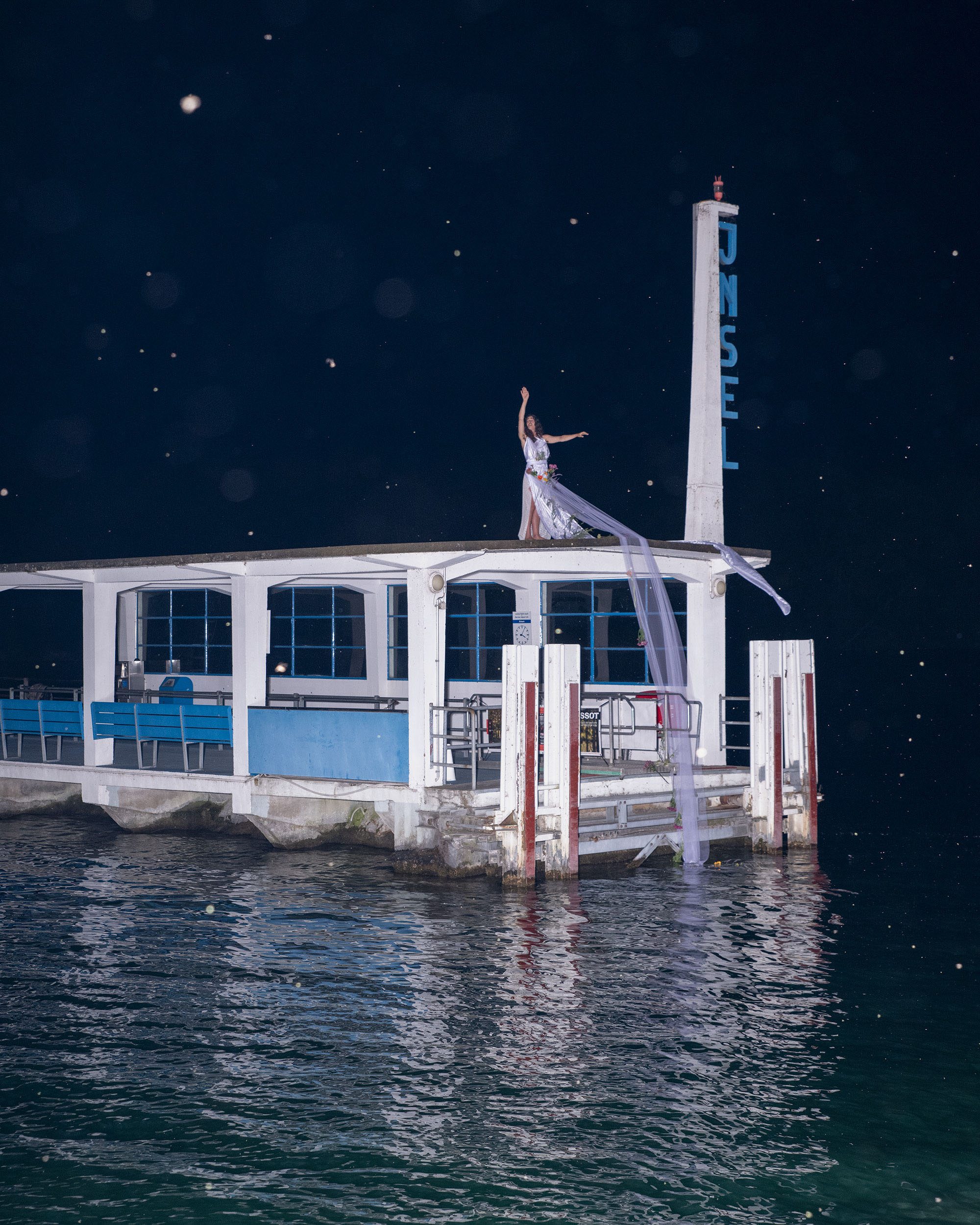 Lara Dâmaso 'Rêverie' during Another Map to Nevada,
Biel/Bienne 2023.
Photo by Reto Schmid.
---
Photo by Reto Schmid in collaboration with Amadeus Vogelsang and
Robin Brass for Another Map to Nevada Berlin 2020.
---
PRESS
Le Basel Social Club fait monter la mayonnaise, Le quotiedien de l'art, by Armelle Malvoisin, June 2023
Mit dem Kunstboot zu neuen Ufern, Bieler Tagblatt, by Clara Gauthy, June 2023

Bootstour lässt den Realitätssinn wanken: Ein Kunstwerk vor der Kulisse des Sees, Bieler Tagblatt, by Clara Gauthey, June 2023

The Performance Agency: Another Map to Nevada Biel/Bienne, e-flux agenda, June 2023

Another Map to Nevada!, KubaParis, by Lulu Obermayer, October 2021

Nautical Nirvana, Spike, by Eliza Levinson, October 2021

Esben Weile Kjaer: « The Biggest and Emptiest Narratives of our Time », PW Magazine, interview by Luca Büchler, October 2021

Students Occupied a Derelict Factory. Now It's a Global Art Space, NY Times, by Kimberly Bradley, October 2021

Die Performance-Agentur, Berliner Zeitung, by María Inés Plaza Lazo, September 2021

Det traditionelle teater gisper af postpandemisk afmatning - kig herhen for inspiration, POLITIKEN, September 2021

Curated by, Spike, by Vanessa Joan Müller, September 2021

Vienna Contemporary 2021: Much More Than An Art Fair, Forbes, September 2021

24 Galerien bringen internationale Kunst nach Wien, Heute, September 2021

Five Shows to See in Scandinavia this Autumn, Frieze, September 2021

Kunstmarktplatz Wien: Messe und Galerien wagen den Wandel, Handelsblatt, September 2021


The Performance Agency: Another Map to Nevada, e-flux announcements, August 2021


BADRUNDFART ''Another Map to Nevada'', IDOART.DK, August 2021


Performativ badrundfart i Kobenhavns kanaler, Kunsten nu, August 2021


Breaking the waves: Another Map to Nevada, Provence Magazine, interview by Alma Manssur, May 2021

Another Map to Nevada, Art Papers, by Mohammad Salemy, September 2020

Sie paddeln sich frei, Zeit Online, August 2020

Wiedereintritt in die Kunstatmosphäre, Die Welt, by Anne Waak, July 2020

"Between Points" Nachtfahrt mit Waschbär, monopol, September 2018

---